Limited Company Formation With Bank Account
Quickly register a limited company and simultaneously open a bank account for free. We are Companies House and HMRC Authorised.

The UK's only free app. You can have as many directors and shareholders as you wish.

✭✭✭✭✭ iOS, Android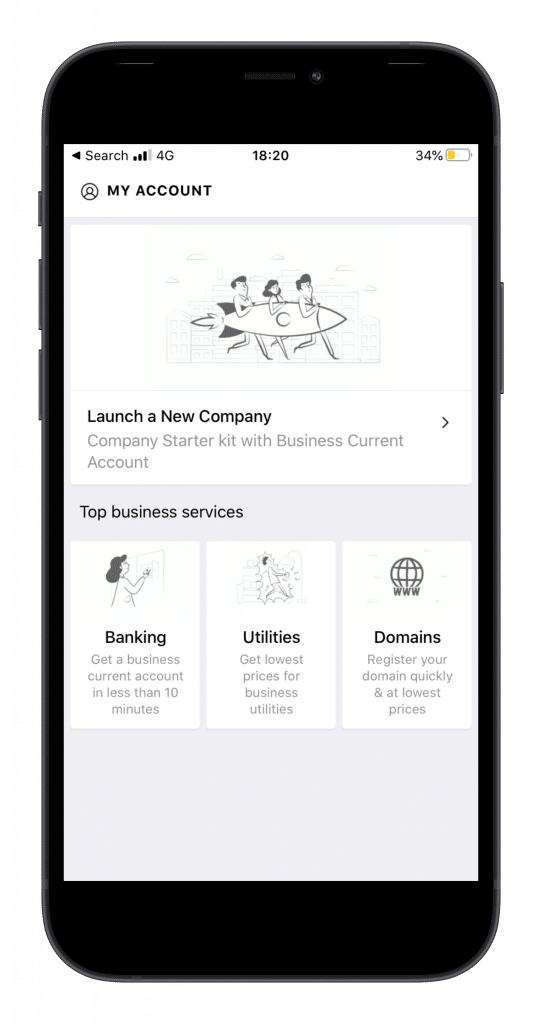 Register a limited company in minutes
If you're looking to quickly register a company with a business current account you've come to the right place. All you need to do is download our company formation app and you'll quickly be able to do just that.

Operating as a company will mean that you need a UK business bank account. Your company is a legal entity in its own right and needs a business bank account in your chosen business name. We can provide you limited company formation with a bank account at CashPlus.

Unfortunately, company formation using our app is not available for non-UK clients.

If you have decided on your company name our app will check to ensure that name is available and you can use it.
What business will your company be doing? Our app helps you to easily find the best business description for your company.
Who will own and run your company? For most small companies the owners (shareholders) will also be the directors.
How many shares will each shareholder have? Don't worry, our app automatically creates 100 shares for each shareholder. You can change it if you want.
Agree Terms & Conditions – you are done! You now can instantly open a bank account in one go.
Get a Free Bank Account from our banking partners with a few clicks. Our bank partners will refund your registration fee. This makes your registration free.
What do you get when you register a limited company?
Our app delivers all the documents in a digital form. Your instant bank account is also 100% digital.
Incorporation Certificate
You'll receive an Incorporation Certifcate once everything has gone through. This contains the relevant identification numbers for your business to begin trading.
Our app will automatically create Companies house default Articles of Association and email these to you.
Once your company is registered our bank partners can open a bank account as soon as your company is ready (subject to T&Cs). Then your registration fee will be refunded.
If you need help or have any questions during your company formation we are happy to help.
Email us
or to call us at 0333 050 8419.
Dinos used our app to register his company and start a Greek restaurant in the middle of the pandemic. Hear he talks about how easy the process was using MachFast.
Customer Reviews
Konstantinos Tagkalos
Elysian Silk Company Ltd., iOS
★★★★★
"I can't believe how amazing this app is! Set up my company under 5′ & was registered under 24 hours. The service is immaculate, fast response…quality customer service at its finest."
Tim Farmer
Commentis Ltd, Android
★★★★★
"I have opened a few companies in my time and this was without doubt the easiest, quickest, simplest and most cost effective method I have ever used. Would definitely recommend."
Paula Knights
BCS Serv Ltd., Google My Business
★★★★★
"Absolutely incredibly fast and easy to complete. Brilliant innovation & also a personal call from the company owners made it a very person centered approach. Will definitely recommend."
How Our Company Formation App Works

If you're looking for company formation with a bank account our app provides one of the easiest ways to so. You'll have completed your registration with all the required information sent to companies house within a matter of minutes. We remove the need for any lengthy forms which saves you a bunch of time.

1) Set Your Company Name – our app quickly checks if your desired company name is available. It also shows you if a matching domain is available.
2) Enter your business SIC code – You can search for this on our app or simply enter it if you know it
3) Set your registered office address – Use our quick postcode lookup to quickly set your companies registered office address.
4) Add Company directors – Quickly set your company directors, you'll need to know their date of birth and current address.
5) Add Shareholders – Add as many shareholders as you wish. You'll just need to know their town of birth, telephone number, and Passport number. Our app will create 100 ordinary shares at a value of £0.01p.
6) Add Person with significant control –
7) Agreement – Here you agree to keep on the public record at companies house. This is where your Memorandum of Association and Articles of accusation are created, or you can upload your own.
MachFast is regulated and authorised by Companies House and HMRC.
✔ Data Protection & Insurance
Hiscox provides our £1mn data protection insurance.
Our Apps have bank-grade security, including 2-factor authentication.
Features Of CashPlus Business Account
Easily manage your business account with CashPlus, one of the oldest challenger banks in the UK.
Instant account number and sort code
Base UI is the best starting point for your Once Cashplus has authorised your account you're open for business. You will be given an account number and sort code, so you can start accepting payments immediately. You'll be able to use these with mobile banking and online servicing.
Subject to approval. Business Cash Advance lets your business access up to £15,000 in cash if it accepts card payments. Unlike a loan, you pay back the advanced credit through a small percentage of your card transactions in line with your cash flow.
Cashplus can issue up to 20 additional cards to your business that employees can use for shopping and general expenses. Each card is linked to mobile banking and online servicing, so you can monitor expenses and see who spends what.
Limited Company Formation FAQs
Does my limited company need a bank account?
Legally, no. But it's best to register a limited company with a bank account for practical reasons. You'll want to begin trading as soon as possible so limited company formation with a bank account just makes sense. We offer guaranteed business current accounts with CashPlus.
Can you run a limited company from a personal bank account?
A limited company must have a separate business account, as it is a distinct legal entity.
How many people are required to register a limited company?
It only requires one person to register a limited company. You can incorporate, own and manage your limited company as a sole director. You can easily enter the names of directors during the registration process on our app.
When will my limited company be ready to trade?
As soon as your application is approved by companies house you'll be ready to go. It normally takes around 3 to 6 hours for this to happen, however, sometimes it can take longer than this.
Are there any additional costs?
No. Company registration with our app is completely free. You will have to pay the £12 fee, however, this is refunded.